MTASA Regularly host events to support you and your student.
Personal Development, Performance and Conference events are a regular occurrence for the MTASA.

MTASA Webinar with Melanie Spanswick
November 7, 2022 @ 7:00 pm

-

7:45 pm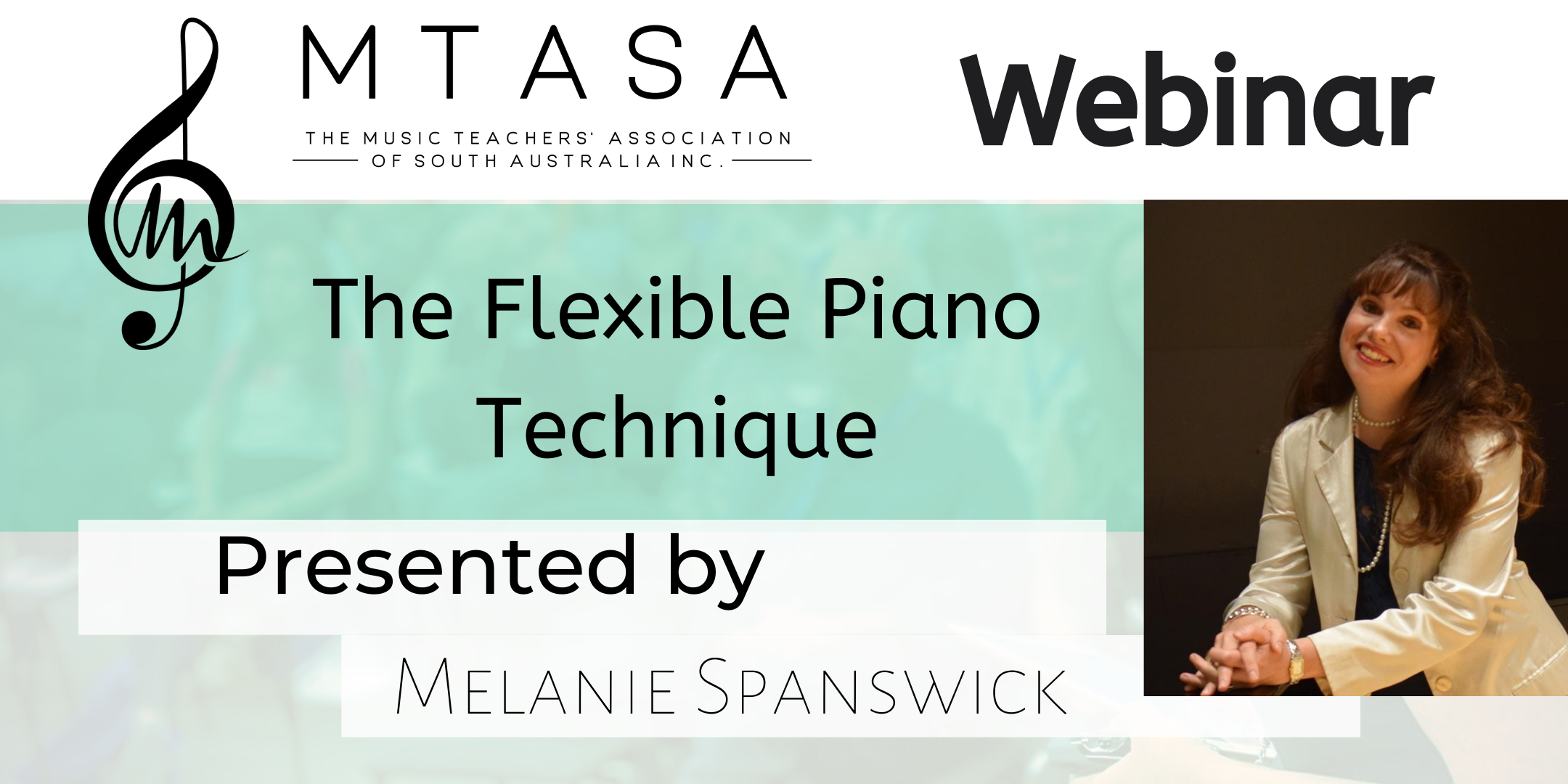 GET TICKET
A presentation focusing on developing firmer fingers alongside a rich sonority, coupled with a relaxed upper torso.  
This presentation will start by focusing on simple five-finger exercises which can be implemented into piano lessons in order to develop firmer fingers coupled with a loose flexible upper torso. These exercises can be utilised when learning repertoire, and are really easy for students to work at during scale and arpeggio practice, too. Discussion and demonstration will include the use of arm-weight for the introduction of a rich, full sonority, and how to teach it, as well as the importance of developing a relaxed octave position in order to play octaves and chords more effectively.
Melanie Spanswick Biography
Melanie Spanswick (1969 – ) is a British pianist, author, teacher, adjudicator, and composer. She graduated from the Royal College of Music with a Master's degree in Performance Studies.
As an educator, Melanie has examined and adjudicated widely, and she has given master classes, workshops and presentations throughout the UK and abroad, extensively touring the Far East. She currently teaches the piano at the Guildhall School of Music and Drama and Eton College (UK), and is a Master teacher at the Tom Lee Academy (Hong Kong). As a pianist, she has performed and broadcast worldwide, and has given recitals as a soloist, chamber musician and accompanist at many music festivals and major concert halls.
Melanie has written and edited piano books for the international market, to critical acclaim. She is a regular contributor to Pianist Magazine, Piano Professional (EPTA) and Music Teacher Magazine, and her three-book piano course, Play it again: PIANO (Schott), has become a best-selling series. She has recently published a three-book series: Women Composers – A Graded Anthology For Piano (Schott), and a two-book series, First Repertoire For Little Pianists (Willis Music Co.).
As a composer, Melanie has written and published works for professionals, amateurs and students, and her music has recently been performed and recorded in Japan, Germany, Serbia, Italy, Malaysia, Indonesia, and Singapore, as well as in the UK. Melanie is one of the few female composers to feature in the Edition Schott Composer series.
You can read Melanie's Blog, and visit her website, here:
www.melaniespanswick.com
Social Media
Facebook: https://www.facebook.com/ClassicalMel Twitter: @Classicalmel
Instagram: ClassicalMel