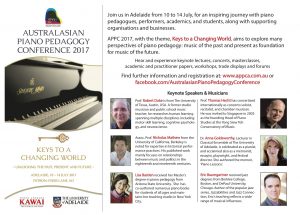 Dear MTA colleagues
Australasian Piano Pedagogy Conference, University of Adelaide, July 10th – 14th 2017.
Please note that the closing date for Early Bird regular and student rates is May 1st. Full registration rates will then apply.
I refer you to the attached flyer for the broad outlines of what promises to be a highly informative and often controversial international conference on all things pianistic.
The conference website is at www.appca.com.au
Rodney Smith
President, Music Teachers' Association of South Australia
Chair, 2017 Australasian Piano Pedagogy Conference, Adelaide