Here are our Secretary and the Treasurer.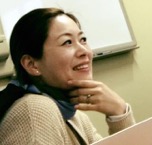 Secretary – Masako Kondo
(since Aug 2015)
Born in Himeji, Japan, I am a freelance flute teacher in Adelaide. I hold the Master of Music (Performance) Degree from The University of Adelaide's Elder Conservatorium of Music, studying under the tutelage of Assoc. Professor Elizabeth Koch AM.  Prior to that, I graduated from the University of Wales, Bangor in 2001 with honours, where I studied with Jonathan Rimmer.
I have been a committee member of the Flute Society of South Australia Inc. since 2008, where I have undertaken the layout of its newsletter, and was appointed as the President in 2015-2016.  I am a full member of the Music Teachers' Association of South Australia, joining the council as Secretary in August 2015. I am also a member of the British Flute Society and the Japan Flutists Association.
Currently, I am teaching at 4 schools and at home, juggling work and family. I attend to MTASA Secretary work at every possible spare time, trying my best to help, organise meetings and events.
If I don't answer the calls quickly, please try texting or emailing info@mtasa.com.au as I am most likely in teaching or attending family matters.

Treasurer – Samantha Penny (since Aug 2015)
Sam Penny is an instrumental music teacher with 17 years of experience in the profession.  She holds a Bachelor of Music (Honours) from the University of Adelaide, with majors in Music Education and Bassoon Performance.  While studying music, Sam also completed a Bachelor of Commerce (Accounting) and is excited about using her skills to benefit her fellow music teachers.  She is currently studying for a Graduate Certificate in Music Teaching.
Sam teaches bassoon, flute, violin and viola privately and at schools including Brighton Secondary School, Westminster School and Woodcroft College.  She is involved in String and Band Programs at her schools, and directs the Woodcroft College String Ensemble.  Sam is very proud of her three students who began tertiary study at the Elder Conservatorium this year.
Sam is a regular performer in the Adelaide music scene, most recently playing viola with the Fusion Pops Orchestra and Choir.  She held the position of Principal Bassoon under the baton of Daniel Ciurleo for a series of concerts entitled Songs My Father Taught Me.  Her recent music theatre productions include Annie Get Your Gun (Tatachilla Lutheran College), Phantom of the Opera (MBM), Little Women (Therry), Joseph and the Amazing Technicolour Dreamcoat (Tatachilla Lutheran College) and Seussical (AYT).
Music is a driving passion in Sam's life which she shares with husband Alex, a classical singer, and their 2 year old daughter Winnie.
If you have any query re: subscription or payment, please contact Sam mtasatreasurer@gmail.com